NEWS!NEWS!NEWS!NEWS!
06/09/2018 Nous serons en studio fin novembre pour l'enregistrement de notre nouvel album. en attendant et pou rnpus soutenir 3 titres inédits sont téléchargeables sur la boutique en ligne rubrique ep mp3 .
12/02/ 2018 Nouvel album en preparation ainsi que le tournage de notre premier clip dans les mois qui viennent.un cd promo 3 titres enregistrés le 10 fevrier 2018 devrait egalement voir le jour d'ici peu.
07 / 02 2017
changement de batteur, jean marc ami de longue date et avec lequel nous avons déjà jouer dans d'autres groupes dans le passé a remplacé Johan depuis le mois de Janvier. Nous suspendons les concerts pour 2017 afin de préparer un album et un ep afin de faire la transition entre les deux batteurs.
Le nouvel album L'UNION FAIT LA FORCE est disponible à la rubrique boutique en ligne de notre site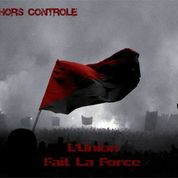 15 / 11 / 2013
Lors de notre concert à la péniche de Chalon sur saône le 21 / 09 / 2013 une captation vidéo et audio a été réalisé en vue de sortir un dvd + cd live courant 2014. Le montage vient de commencer.
ENGLISH VERSION
17/07/11
A
split
ep
should come
by the end
of the year
will be composed of
two
unpublished
titles of
HORS CONTROLE and
two
unpublished of
Breton
Group
Bullshit Detector
.
A
tour
during programming
is scheduled
in March
/
April 2012
with the German group
UNITED
STRUGGLE
!
!
If you are
organizing
concerts
and that
you are interested
contact us!!!
7/11/11
the German tour dates are defined (section concert)
HORS CONTROLE will make a break from December 2011 to April 2012, during which the band will prepare the next album and will host on this occasion a new member, Philippe, officer second guitarist.


Concerts
will resume
on the occasion
of the
German
tour
April 27, 2012
.
If you are
organizing
concerts
you can still
contact us
prepare
for
the concerts of
2012.
16/01/12
Philippe

joined the group

since early December

and is ready

to record

two songs

for

the

split with

BULLSHIT

DETECTOR

it

will be the

weekend of

January 28
04 / 03 / 2012
The output of

split ep

10"

HORS CONTROLE

/

BULLSHIT

DETECTOR

is scheduled for late

March

will be

available on our website

under the shop on line
19 / 03 / 2012
Recording

the new album

is planned

from 1st to

4th November 2012

at the studio

La boucherie

(

71

)

.

Studio reserved

,

now we have

work

to be on top

!
09 / 07 2012
We are now preparing the next album (L'UNION FAIT LA FORCE) record under 1 st to 4th november. For the realization of the booklet we are looking for recent photos of antifas french or Europeens in general.
Let me explain: You and your friends are antifas, take a picture with a banner antifa clearly indicates and send it to horscontrole@free.fr with you city and we'll stick the photo on the booklet.
If you want you can mask their faces because we will not retouching.
See you on the road and thanks in advance.
15 / 11 / 2013
During our concert at La péniche in Chalon-sur-Saône on 21 / 09 / 2013 a video and audio captation was realized to produce a DVD + cd live in the year 2014. The editing has just started.